Where taste meets pleasure
DOWNTOWN


Cafe & Restaurant
"A good restaurant is like a vacation; it transports you, and it becomes a lot more than just about the food." – Philip Rosenthal, Television Writer and Producer.
Discover the Good Atmosphere of Downtown cafe & restaurant
Our restaurant has four floors, the first of which is equipped with a bar and comfy chairs. The second floor can accommodate 50 customers at the same time. The third and fourth floors have private rooms. All have air conditioning for Hanoi's hot summer days as well as its cold winter days.
In total, 390m2 of mixed decor, old and new Hanoi styles and colors. One side faces Hang Muoi St., the old quarter of Hanoi; the other side faces Chuong Duong Bridge, where you can view daily life passing by from our restaurant.
To make everyone entering the establishment feel at home and find a great atmosphere.
Take refuge in our exclusive haven of greenery and get away from the crowds. Good music at the right volume, enough for everyone to enjoy eating, welcomed by our friendly and attentive staff.
Enjoy your dining experience in a relaxing atmosphere. Prices are in VND
Sauté crispy Pho noodle with chicken/beef/shrimps - 189,000,195,000
Hanoi's style Bun Cha - 175,000
Saute pan seared scallops with broccoli - 220,000
Fruit/Walnut/Veggie/Honey
Downtown Pumpkin peanut soup- 79,000
Downtown stewed tender beef - 180,000
Traditional Hanoi grill fish - 210,000
Pan seared duck breast with fried potato - 220,000
Duck breast/Potato/Galic/Butter
Homemade -
Where taste meets pleasure
Downtown Cafe & Restaurant is a restaurant that specializes in Vietnamese food. It has a wide range of healthy and delectable dishes on the menu. Let's join us for your own experience.
Meet The Team of Downtown Cafe & Restaurant
Our team is passionate about cooking and our work as hospitality professionals. We are also dedicated to assisting students from the countryside who work part time in our restaurant in coping with costly financial demands while attending school in the big city. Our on-the-job training gives them a sense of pride, furthers their careers, and better secures their futures. This is a win-win for both.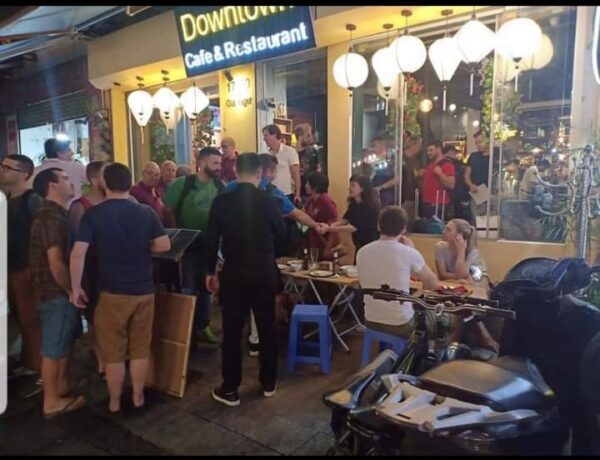 Delicious bun cha, friendly staff Very cute cafe in a great location! They have just reopened post-COVID and the food is delicious! I had the bun cha and I think it was my favorite thing I've eaten in Vietnam so far. My server, Tom, was very friendly and spoke great English. He helped me understand the food and told me some cool things to do around Hanoi. I hope that I can make it back by the end of my trip!
A great restaurant in Hanoi. We were lucky to have dinner here a few days after their re-oponing after Covid. The staff were great, the beer and rice wine tasted great, but most of all the food was fantastic. Overall, we had a great experience and highly recommend the Downtown restaurant. We had a great talk with the manager, I think you will find him to be a really friendly nice guy.